In Our Community
At Dufresne, it's our honour and responsibility to give back to the communities that continue to support us. After all, our communities are where our teams, families and guests work, live and play!
We are privileged to offer our support to charitable organizations both through ad hoc grants and our annual programs listed below.
Dufresne Children's Hospital Book Market
Dufresne is proud to be the title sponsor of the Dufresne Children's Hospital Book Market, the longest running fundraiser in support of the Children's Hospital Foundation of Manitoba. Each year, St. Vital Centre in Winnipeg, Manitoba hosts sales that offer thousands of books in more than 65 categories.
Since its inception, the Book Market has raised over $8 million in support of children's health care, equipment and research, saving the lives of children across Canada. You can help us support this great cause by visiting a book market or dropping off your used books at all Manitoba Dufresne Furniture & Appliances locations or at any City of Winnipeg Fire Hall. Find out when the next sale is by visiting the Children's Hospital Foundation of Manitoba website.
Dufresne's Play for Purpose Fundraising Golf Tournament
Each year, Dufresne's team members, business partners, and friends hit the links for a great day of golf to raise funds for our communities. In 2012, 2013 and 2014 we played for Friends of the Canadian Museum for Human Rights, raising over $115,000 in proceeds for this important cause.

The 2015 - 2018 tournaments were held on behalf of the Dufresne Foundation. This year it resulted in a donation of over $70,000! That's over 200 mattresses, bases, and frame sets distributed to communities throughout Manitoba and Ontario!  
Thank you to our sponsors, donors and golfers for helping make this day possible.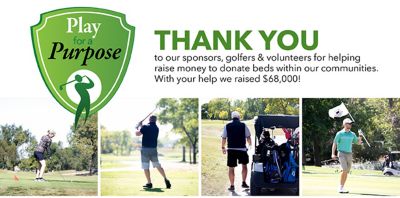 Dream Big Experience with Dufresne and the Bombers
As local, community minded organizations, Dufresne Furniture and Appliances and the Winnipeg Blue Bombers are a perfect fit! Together, we're supporting and celebrating families, health, and fun through three initiatives.
 
Dream Big Experience: An unforgettable sleepover at Investors Group Field where we surprise 35 children from Big Brothers Big Sisters with jerseys, hats, and brand new beds to support a better night sleep, helping them reach their full potential.

Dream Game Day Experience: To follow up the fun, these children and their families are invited back to enjoy the excitement of a live Bombers game! Visit our Dream Big Experience page for more information about this year!

Dufresne Better Game Seats Experience: We're hosting a Big Brothers Big Sisters pair each home game in true comfort in branded, leather recliners in our exclusive VIP section at the 55-yard line. Two additional VIP section seats to each Bombers home game will be presented to our valuable guests as part of an in-store contest. 
Habitat for Humanity
Habitat for Humanity offers a hand up, not a hand out. Community-helping- community is something we are honoured to support as a Habitat for Humanity Build Sponsor.
As a gift to each new Habitat homeowner in our home community of Winnipeg, Dufresne is happy to donate 17 high efficiency front-load washer and dryer sets in 2018!
Visit the Habitat for Humanity website to learn more.
United Way
It is a natural fit that we support the United Way each year through both corporate and individual donations. After all, in one shape or form, we all benefit from the charities the United Way supports.
We continue to offer our team members the opportunity to give back and strengthen the community around them through an annual pledge drive and team fundraising events each fall. The United Way strengthens our communities by focusing on improving education, income and health in our communities.
Visit the United Way website to learn more.
The Dufresne Foundation
We are honoured to host our own foundation, The Dufresne Foundation. Administered by a committee of volunteers, The Dufresne Foundation is dedicated to improving the quality of life in the communities we operate through the support of women, children and health care by ad hoc giving and planned programs.
To celebrate our 25th anniversary, The Dufresne Foundation hosted the Dufresne $1 Million Charity Challenge, presenting $500,000 in grants from $5,000 - $30,000 to 51 charities across Manitoba and Ontario. In return, we asked these charities to raise an equal amount to the grant they received. As a result $500,000 turned into over $1.6 million dollars for charities in the communities we operate. Thank you so much for your support for this initiative!