#DufresneStyle: @Whatsup.Juice
See How @Whatsup.juice Makes Small Changes For a Big Impact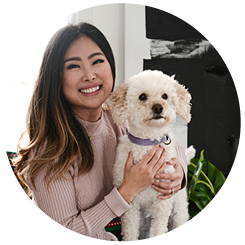 Pinterest and HGTV can have you thinking that you need to knock down walls, redo floors, and replace all your furniture to make a big impact in a room redesign – but we know strategic small changes can really add up. To prove it, we partnered up with fashion, food, and lifestyle blogger Juhui of @whatsup.juice to give her master bedroom and living room a little refresh. For both spaces, Juhui wasn't looking for a complete overhaul. Instead, she wanted to update some pieces to match her family's style – sounds like most of  us!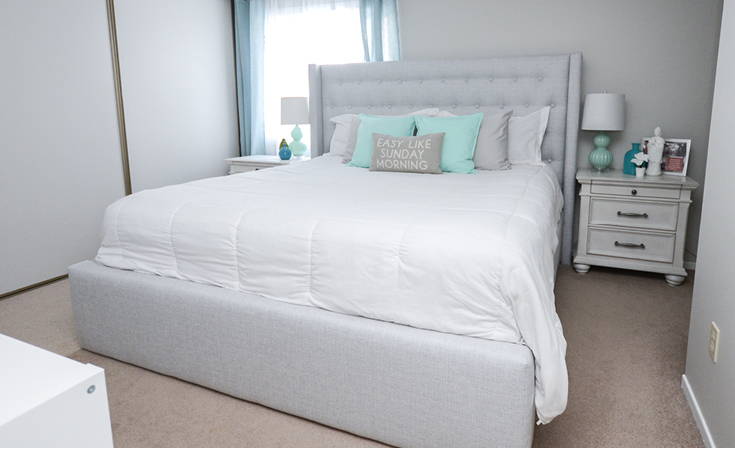 The Bedroom
Juhui wanted the master bedroom to be a bright and airy sanctuary that sets the stage for relaxing mornings. To achieve this, she developed a refined colour palette of neutrals, and looked for furniture with lots of storage to keep the clutter at bay.
The first thing she opted to update was the bed frame – a major statement piece in any bedroom. Because Juhui had a specific vision in mind, with the additional storage function, she had trouble finding the perfect fit.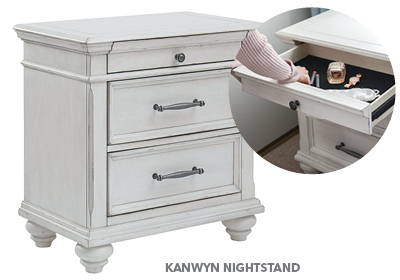 After looking at a few styles, she went with the William bed in a custom light gray  fabric. Then, it was time to choose nightstands. Juhui and her husband have a king-size bed, so the nightstands needed to be able to hold their own beside the larger piece. They also needed to be the right height, and have additional storage drawers. She found that the Kanwyn nightstands ticked all the boxes, and picked up two to complete her new bedroom set. 
"Our bed and side tables fit perfectly in our room and are just the right height and size while maintaining our concept. It's great when the items you want fit perfectly and there is no compromising."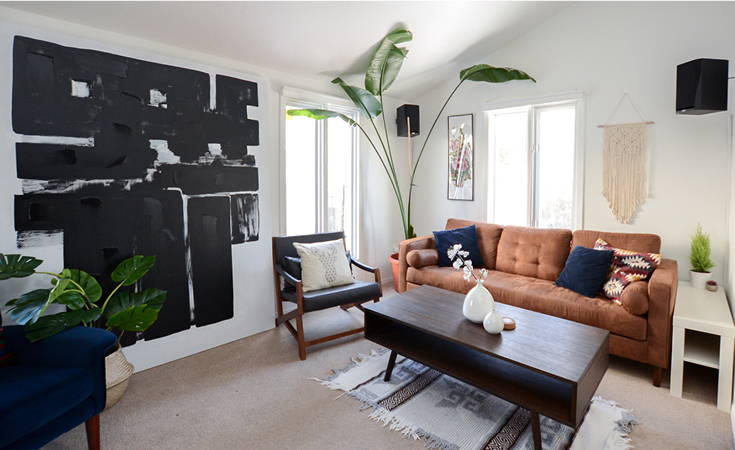 The Living Room
Juhui and her family have a very unique living room – it has a high, sloping ceiling and is painted white with one black accent wall. Because there is a lot going on already in the room itself, she opted to keep the furniture in her space simple and streamlined. However, Juhui found their current furniture pieces too simple, and wanted to add more personality.
"Our current living room style is modern and simple, but [we] found it was too plain," she said. "We wanted to make our living room simple but not too boring, so we looked for accent furniture to make our living room more fun and interesting." 
While visiting her local Dufresne store, she found the Carolmore Cabinet and knew it would be a perfect addition to her space. This geometric masterpiece is anything but boring! The clean lines and streamlined silhouette are complemented by sophisticated brass accents. Plus, the cabinet also creates more storage – so it's a win-win. She finished off the look with the ultra-modern Andrea chair and Kisper coffee table to create a dream space for any lover of mid-century modern design.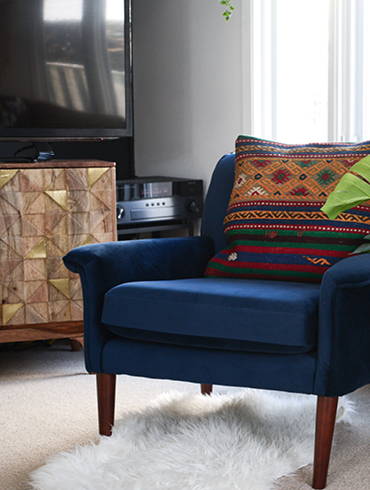 "The new pieces are still a simple and modern design, but we chose bold colours with the armchair and a dramatic wood pattern cabinet," Juhui explained. "They make our living room more impressive and contemporary, and the pieces really stand out. It turned out great."
What's your favourite way to give your space a refresh? We'd love to see! Tag us on Instagram using #DufresneStyle.