Ever flip through a magazine or walk through a store and wonder how they came up with the throw pillow combos? Here is a simple guide to help you choose pillows that coordinate and give you that "show Home' look.
Select a colour palette that you love!
It's important to choose colours that – 1-you can
live with, and 2- will also compliment the other
pieces in your room.
Start by finding an organic print
This is a design that has some movement, and/or is inspired by nature. Think florals, curved lines, leaves etc.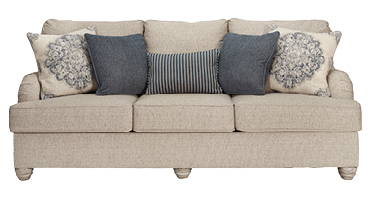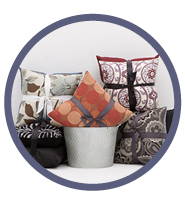 Choose a geometric print
Now choose a geometric print to help balance out the movement of the organic pattern. This can be lines, shapes, grids, whatever speaks to you. Find a contrasting scale Next, find a pillow with a pattern in a contrasting scale compared to the other patterns you have selected. The pattern can be either large or small, just make sure it makes a statement when next to the other arrangements.
Finally texture!
This can be a solid colour or multi-colour pillow, as long it adds some texture to your selections. Think fur, velvet, sequence, embroidering, weaving, something that will entice you to touch it!