#DufresneStyle: @Meredith_Deanne
Step Inside @Meredith_Deanne's #DufresneStyle Living Room

Mom, teacher, and blogger Meredith Rhinas recently gave her living room a big refresh, and we were lucky enough to be a part of it! Meredith's light, airy, rustic style is enough to spark some serious house envy – just take a look, and you'll see what we mean. 
"The inspiration behind my living room was a combination of modern farmhouse but with a little extra flair," Meredith said. If you follow along with Meredith on Instagram and on her blog, you'll know exactly the look she's talking about. This self-described prairie girl is all about the rustic glam – and arguably gives Joanna Gaines a run for her money.
When Meredith and her family decided to give their living room a little refresh, she had a few key things in mind for her space: 
Lots of seating

 

Durable fabric that can hold its own with four children

 

Larger scale to balance the high, vaulted ceilings in the space

 

A timeless, classic, grown-up feel
After reviewing their list of must-haves, Meredith and her husband decided that designing their own My Custom Alessandra sectional was the way to go. The flexibility to choose the fabric, cushion density, and arm shape of their sectional was essential in maintaining the look and feel they wanted, while making the piece functional for the whole family.  
"I didn't want to compromise my style. I wanted to have the look, colour, and design that I like while still having it be usable for my kids," she explained. "We have vaulted ceilings, so I knew I needed a piece that was large enough to actually fill the space and hold its own – that's what lead me toward the option of custom designing something." 
Going down the custom road can be intimidating – there are so many different choices to choose from! – but in the end, it guarantees that your furniture piece is exactly what you want. We recommend starting out with our room planning tool  to see what will work in your space in terms of scale and shape, and then looking at different fabric options. Taking it one step at a time and having a clear vision in mind of what you want the final result to look like makes the process go smoothly, and we're always here to help out if you need. 
"The most challenging part for me was really visualizing what it was going to look like in my space. But I really feel like with the assistance that I received, we were able to put something together that was exactly what I wanted," she said. "It just perfectly suits our lifestyle."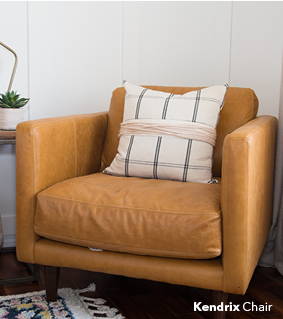 Once the custom sectional was locked in, they decided to select new chairs for their space as well to maximize the seating available. With an idea in mind, but no luck finding a product to match, Meredith again opted for the custom experience to watch her style come to life. Meredith liked the shape of the Kendrix chair, but customized the fabric to Castle Gold Leather and switching out the chrome legs for fruitwood.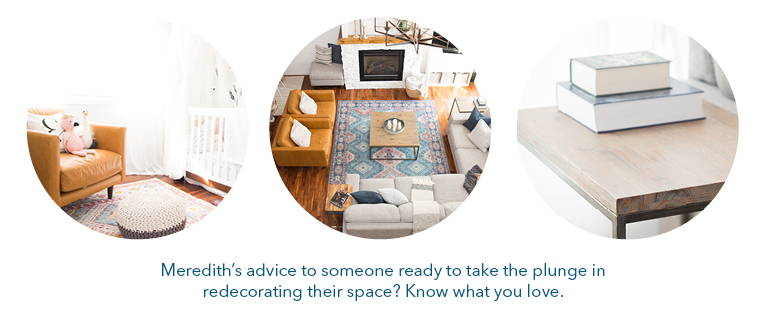 "I love that I was given the opportunity to actually have an idea in my head and see it come to life – and that Dufresne made that process so seamless," Meredith said. "I really appreciated the way everyone helped me realize my dream – right from me walking in the door to actually helping me build and create it." 
"When you want to refresh your space, I think my top piece of advice would be to stay true to what you really love, and don't feel like you have to be swayed by what is popular or whatever someone else is doing really well," said Meredith. 
"If there's a style or trend that you really love, you should stay true to that because it will come together – even if you can't quite picture it in your head or you're questioning it, if you stay true to your vision, it'll come together." 
Is a living room refresh in your future? We would love to help you design your own custom furniture to perfectly suit your vision.
Visit us in-store to get started!