How to Furnish a Small Room
Although we may like the idea of infinite space in our home to fit all of the grandiose ideas we see on Pinterest, it may not necessarily be the case. Sometimes we have small spaces that make us get ultra creative so we have the room to work, play, and live our everyday lives. 
Apartment Sized Sofa
Sometimes you just can't justify having a large sofa or sectional in your small living area but you also want space for people to sit.  Sounds like an imperfect balance, doesn't it? There are other options out there - don't fear!  There are sofas that are made smaller than the average sofa.  Not only are they a bit shorter in length, they are also less bulky, making it easier to maneuver through apartment or condo sized doors and hallways.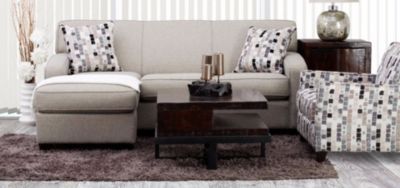 Nesting Tables
What are nesting tables? Aside from a great option for tight spaces, they are 2 or 3 side tables that neatly sit one under another. Need more table space? Take the smaller table (s) out from under the big one and move it to where you need it.  Need more floor space? Tuck the smaller one under the bigger one.  Functionality is at its maximum here. Check out the different kinds of
nesting tables
to see what suits your needs and style.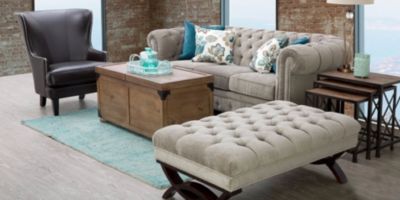 Go High
Just because you might be lacking on the floor space, doesn't mean you can't go vertical.  That's right.  Try going high.  This includes using entertainment towers, tall bookcases, and replacing bulky TV units with TV wall mounts.
Multi-Functional Pieces
It can be helpful to have furniture that acts as more than one thing – similar to a Swiss army knife – so you have 1 item that can do 3 things instead of 3 items that can do 3 things.  A good example of this would be a soft storage ottoman. 
1. It's an ottoman. 
2. It's an additional seating area. 
3. It's also a storage option for magazines, remotes, etc.

A small room doesn't have to be limiting. Look at it as an opportunity to get creative and make space in ways many wouldn't even think about.