Create an Inviting Entryway
Your entryway is your home's first impression, laying the groundwork for the remainder of your home. That's a lot of pressure for one area so we're going to walk you through a few ideas to make it a welcoming yet functional space that works for you. 
 
Benches & Chairs

Giv
e you and your guests a comfortable place to put shoes on and take them off. It's always an awkward moment when you're bending over, struggling to keep your balance while pleading with your knee high boots to "please welcome my foot before I fall". As an added bonus, a large portion of benches offer additional storage areas while many accent chairs offer fun patterns and a variety of colours.
Coat Hooks
Although some of us wish we lived in a place with nothing but warm weather and sunshine, that isn't always the case.  More often than not, we have sweaters, jackets, an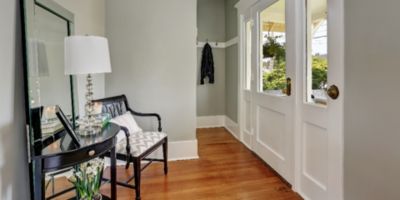 d scarves that need a place to hang out. When you think about coat hooks, your mind doesn't immediately realize the creative opportunity that has been placed in your hands. Try positioning your hooks directly under a floating shelf stocked with cute accents, family photos, or cheeky storage baskets. If you're looking for a more unique idea, place them in a less than straight line for added dimension or mix and match the hooks for a funky décor.  Take some time to research different ideas and see how you can customize your coat hooks to represent your style.

Hall Trees
Looking for a package deal?  You want your entryway to make the utmost first impression.  A newer trend on the market is the ultra chic hall tree. It's an all-in-one piece that can offer a bench for seating, hooks for hanging, and cubbies for storing.  Hall trees come in a wide range of shapes and sizes so you'll be able to find one that suits your space and your needs. If your hall tree features open storage cubbies, this is a great opportunity to accessorize with stylish baskets.

Wall Accessories
There are many ways to accessorize your entryway without sacrificing floor space.  One option being to jazz up your wall space.  Leave it to a bold red paint colour to make a statement, defining your space as a warm and inviting place to be.  If bold paint isn't your thing, you can engage your guests with visual wall décor like art pieces, framed photos, or a mirror.  An added bonus to hanging a mirror is the brightening effect as well as the illusion of added space.  When positioned properly, a mirror can catch natural light and carry it to areas the sun may not directly hit, while also reflecting the room making it appear larger than it is. Wall décor is a great way to display your style and really harness your creativity. 

Your entryway is what greets your guests.  Test out any of the above ideas and see what works best with your space and your decor.