Holiday Outlet Wishlist: Q&A with Ashlee Piper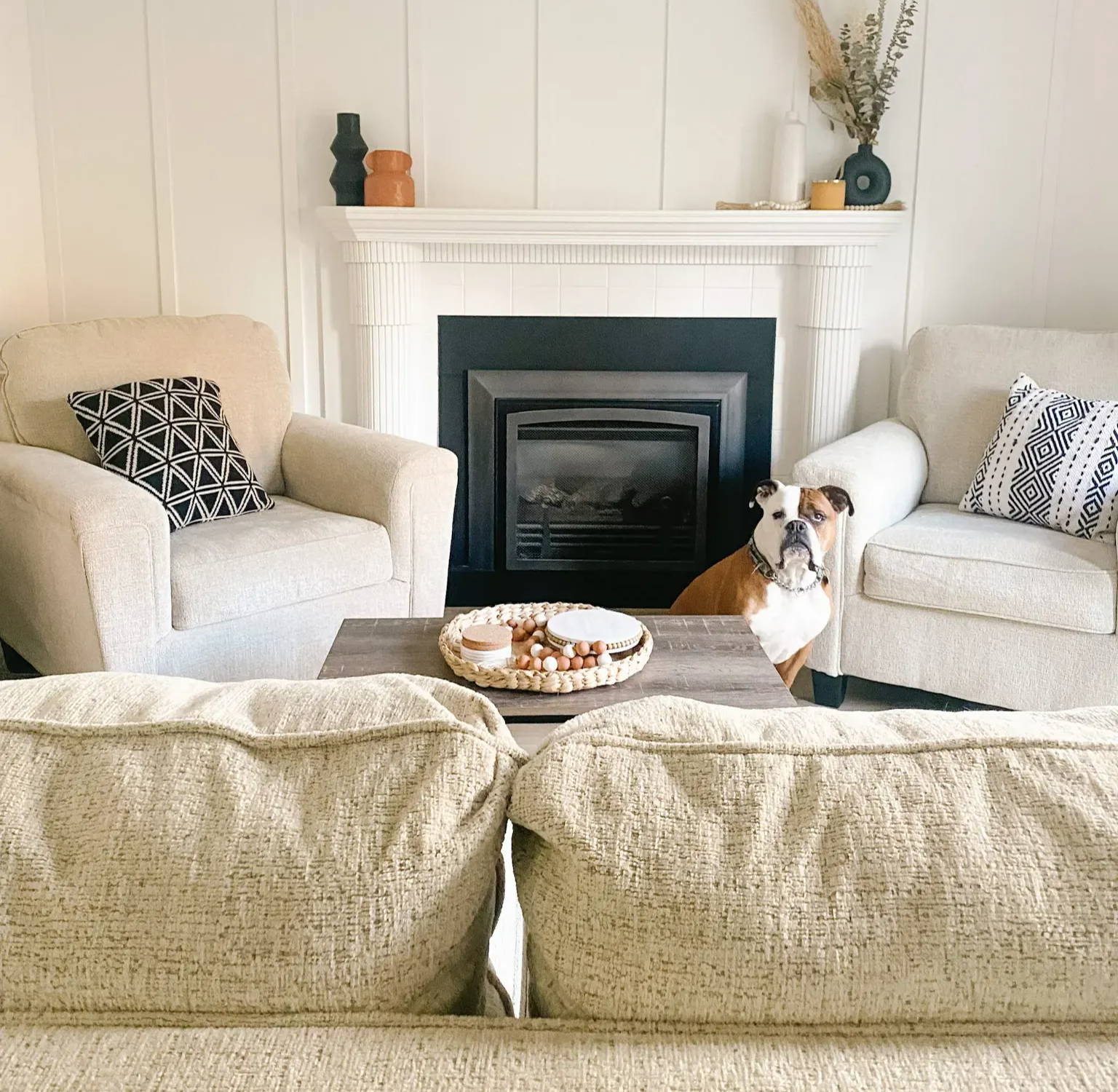 Holiday Outlet Wishlist: Q&A with @theashleepiper
With the holiday season approaching, we thought it was a great time to sit down with influencer Ashlee Piper (@theashleepiper) and discuss the best holiday items at an even better price. Here is Ashlee's 2022 Outlet by Dufresne Wishlist.
Hi Ashlee, thanks for speaking with us. We were happy to provide you with some furniture from Outlet by Dufresne! Can you tell us about what products you chose?
The products I chose from Outlet by Dufresne are:
What about these products enticed you to choose them?
With the Abinger Sofa and Chairs I loved the timeless look, the sleek lines and the neutral colour. They are so comfortable and soft; I knew they would be the perfect addition to our living room.
The Noorbrook tables immediately stood out to me. I love the oversized design and solid distressed black colour. The slightly antique look and well though design details gives a hint of farmhouse with a modern, industrial twist.
How have you worked these pieces into your home?
The addition of these pieces to our home has been perfect. I have used the Abinger Sofa and Chairs in one sitting room and the Noorbrook Tables in our front living room, to complete the design of our main level in our home.
A lot of these products are from Outlet by Dufresne, which features some of our best prices on furniture. Do you have any tips for shopping on a budget?
Style on a budget has always been my approach! Here are some of my tips for shopping on a budget:
Pay attention to quality. If an item must be replaced within a short period of time, your budget continues to have to be stretched.

Look for timeless pieces that will be able to fit with varying room designs. If you choose to paint a room, change the décor, etc., will your pieces still work?

Stay away from current super trendy pieces that may go out of style as quickly as they came in.

Neutral colours for your big pieces are always a great choice, you can pull in pops of colour with décor.
With the holidays approaching, we'd love to hear about your home décor plans. Are there any Outlet by Dufresne décor or accent pieces on your wish list?
We are a holiday-loving family. We love getting in the spirit with holiday décor. This is our first Christmas in our new house, and I am so excited to transform it. You will see some new mantel décor, little changes on our coffee tables, shelves, and anywhere else we can get in the holiday mood!
We'd love to hear what furniture from Outlet by Dufresne is on your wish list. If you were to choose, which five living room or dining room furniture products are on your holiday wish list?
I still have so many items that are on my wish list from Outlet by Dufresne. Some of them include:
The holidays provide the perfect time for hosting dinner parties. Looking at Outlet by Dufresne which appliances would you love to add to your kitchen layout?
Since we have moved into our new house, we have had new kitchen appliances on our list of wants. Outlet by Dufresne has some great fridges, stoves, and dishwashers for amazing prices. When we replace our appliances, we will be shopping the stainless-steel options, I have the LG Slide-In Range at the top of my list for when we are ready to make the upgrade.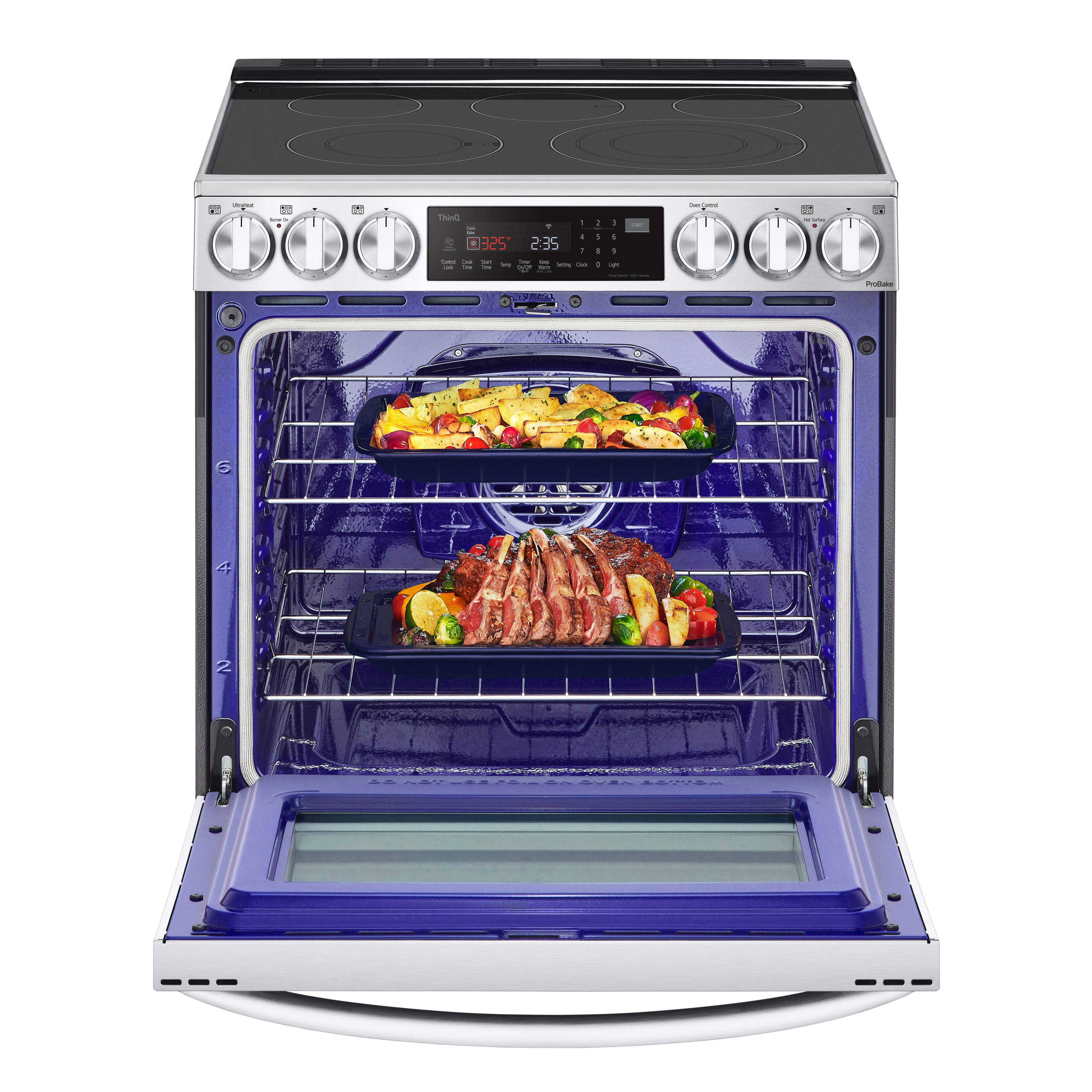 Sleep during the Holidays is important. Are there any mattresses you'd love to buy during the holiday season?
Something else we hope to upgrade in our house is our sleep situation. We now have room for a King-sized bed so something I have my eye on is the Dolante Upholstered Bed. Of course, with a new bed frame, we would absolutely need a new mattress, and the selection in Outlet is amazing. So many quality and affordable choices.
The holidays are a super exciting time for kids. We'd love to hear which products from Outlet by Dufresne would be on your wish list for the kids.
Eventually Nova will need to switch from a twin bed to a full size. I absolutely love the Cottonburg 5 Piece Full Bedroom. It has the crisp sleek lines that are timeless and would work with so many different bedroom styles. I also love the look of an iron style head and foot board, and Outlet by Dufresne features one called Sarasota that is gorgeous and would give a completely different look to a bedroom.
Thanks for speaking with us. Lastly, we'd love to hear what you and your family have planned for the holidays.
Holidays are an incredibly special time for me and my family. We love to sit in the glow of our Christmas tree, go shopping for new tree ornaments and watch all the holiday movies. We spend lots of time together and with our extended families. Life gets so busy, but we love to try to slow things down, enjoy time outside, and cozy up on the couch for family movies with hot chocolate!
If you're a thrifty shopper, the holiday season is your time to shine. Ashlee Piper presents the perfect guide to shopping smart for every room in your home. If you're looking for great pieces at an even better price, browse the Outlet by Dufresne products in Ashlee's home.
Choosing the perfect living room pieces can be stressful. Our advice – shop for fit and functionality. Stick to simple colours and shapes and add pops of colour with the décor and accents. The Abinger Sofa checks off every box on your wish list must haves for couches and comes at a great price.
Add continuity to your living room look and match your sofa and your savings. The Abinger Chair is the perfect complement to its sofa counterpart and adds extra comfort to your living room.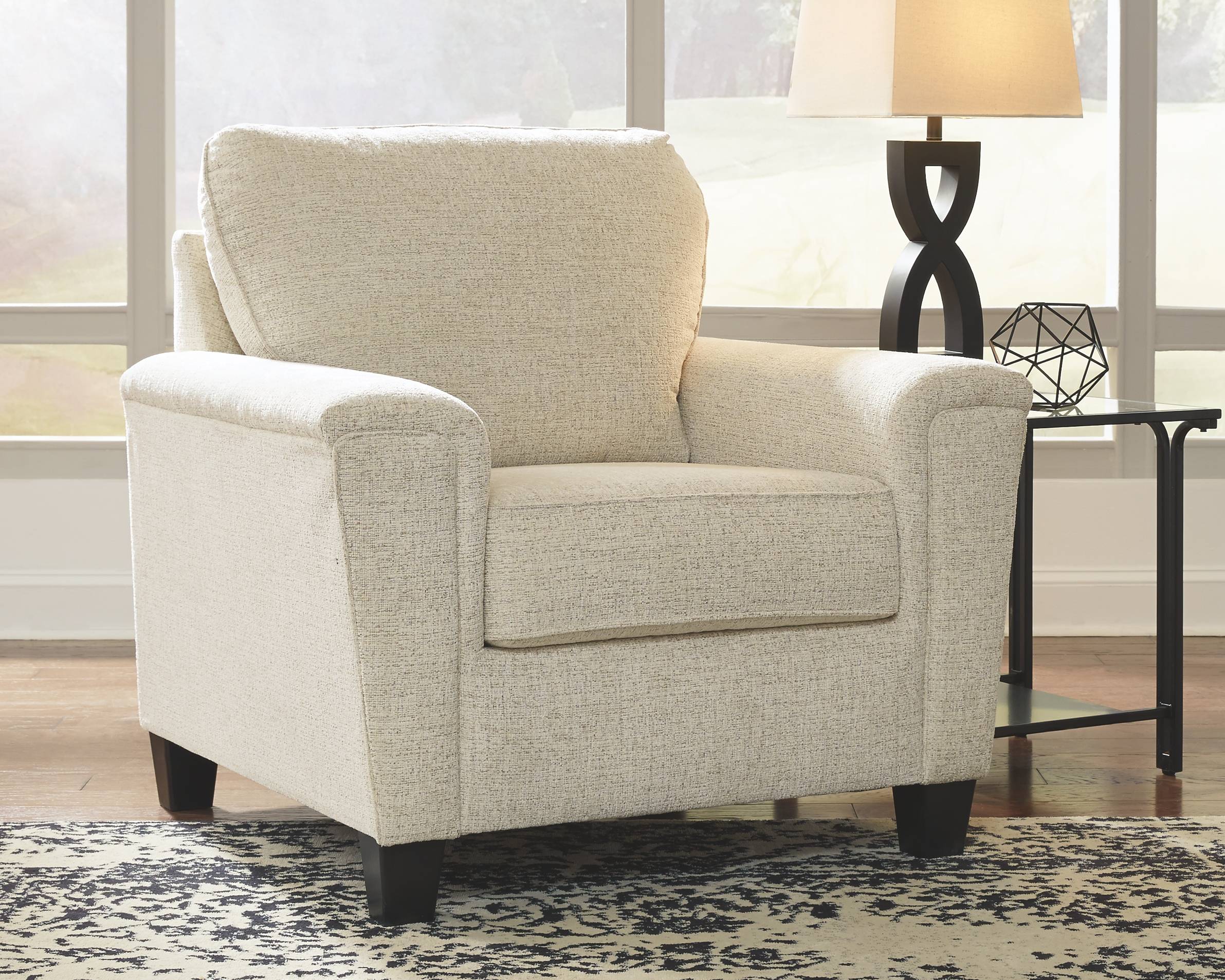 The key to great savings is buying in bundles or packs. The Noorbrook 3 Pack Tables are simple, functional, and fit in almost any room. Shop smarter not harder and buy bundles for every room in your home.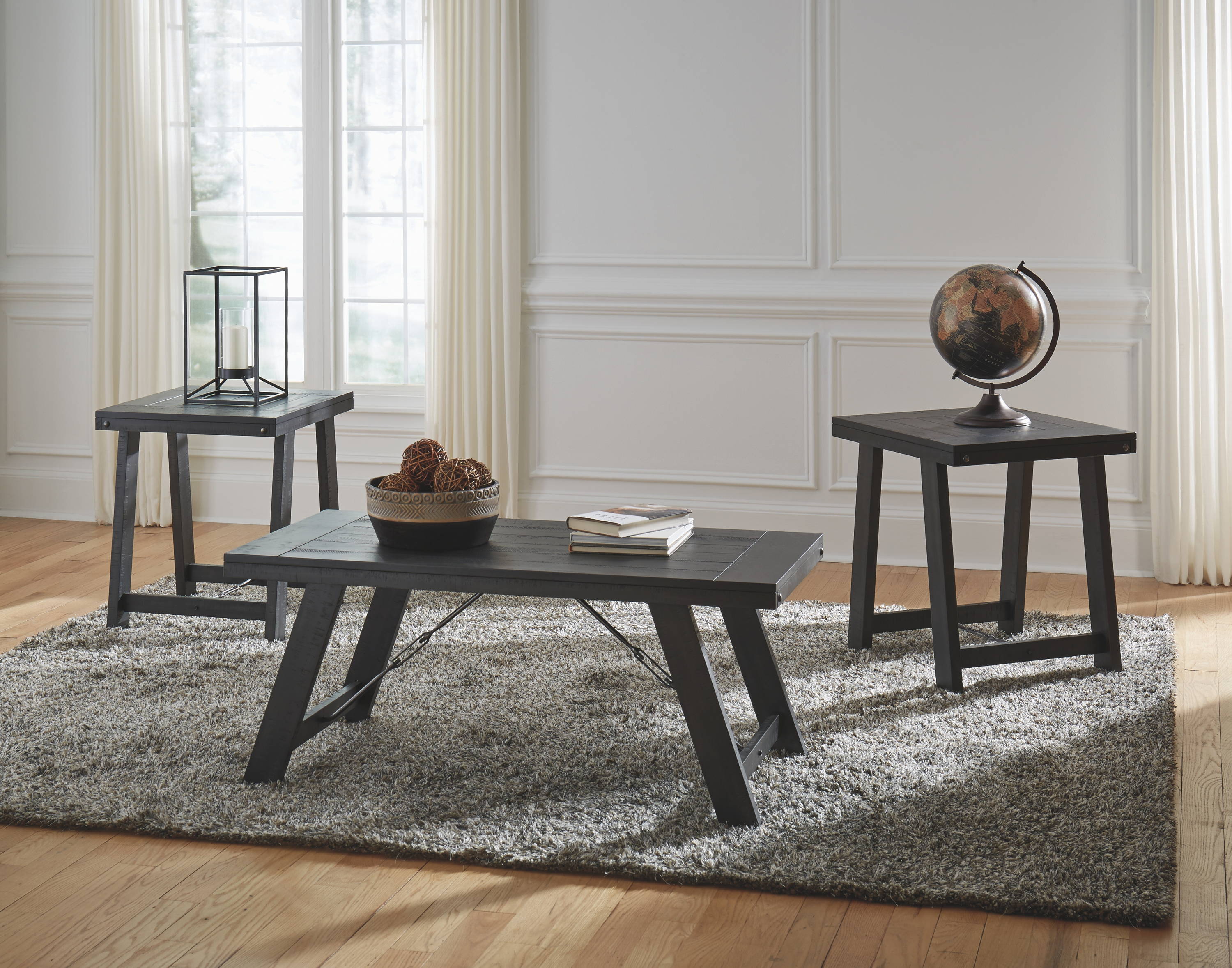 Ashlee provided a great start to savings during the holiday season, now it's your turn to start circling your favourite products. For more great products with even better prices, check out Outlet by Dufresne collection and check out our latest deals online and in store.
Book an appointment for a focused, no-pressure shopping experience. Your sales professional will give you their undivided attention and help you find exactly what you're looking for from our selection of in-stock and custom furniture.
Make sure you're subscribed to our emails to receive special offers, advance notice of our sales and contests, and news about product launches and events in your community.